How Do I Get a Discount?
TheWordPoint team knows how demanding and stressful a student's life could be. Many actions and decisions should be made, and challenges in career growth should be faced. Moving to another country for studying makes things more complicated, time-stressed, and sometimes even scary.
How Can We Help Students With Their Admission Process to Make It Easier?
We realize how hard students work to cover all educational expenses at the same time trying to study and obtain the necessary knowledge and skills. So, TheWordPoint offers special discounts for translation of university admission papers in any country. Our Support Team can also help to clear up differences in translation certification required in every particular case.
We support globalization and we also offer students or fresh graduates a discount for the translation of job application documents for employment at international companies or getting a visa.
We believe that students should be motivated to live up to high standards to build a successful career in the modern world.
Our Offers
Many university enrollees and students will eventually need a translation of some of these documents whether for work in the international corporation, employment abroad, or continuing education in another country. The discounts are available for any type of documents mentioned below. The following papers are especially popular among students, soon-to-be graduates, and degree holders:
Academic Transcripts
Diploma
Degree Certificate
Certificate of Graduation
Curriculum Vitae
Application Letter
Motivation Letter
Assignment
Biography
Statement of Purpose
Reference Letters
Portfolio
Confirmation of Enrolment
Supplementary Form
Application for Admission
The discount applies for the total amount of pages you want to translate regardless of the type of documents or their number so you can provide us with one or several different papers.
How Do I Get a Discount?
Just a few simple steps are needed to proceed with the translation of the required document:
Follow the link and fill in the form indicating name, email address, country, state or area code, phone number, and the target language.
Enter the promo code 'STUDENT2020' in the field for additional requirements. Do not forget to specify all relevant details such as the type of required certification.
Upload or drag and drop documents for translation.
Accept terms of use and press the "Get a Free Quote" button to find out the price offer based on the overall number of pages and the included discount.
TWP Support Team will contact you shortly with the price offer based on the overall number of pages and the included discount.
Here is an example: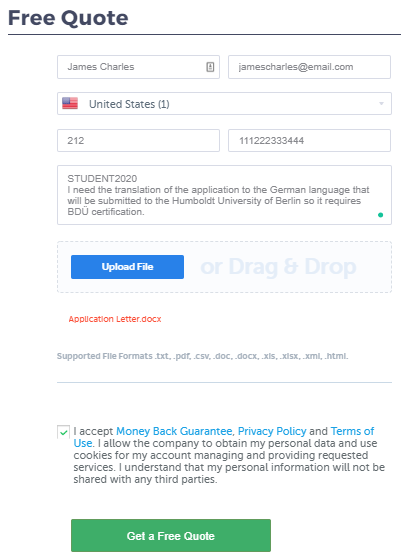 What Exact Discount Can I Get?
Remember that any number of the acceptable documents can be uploaded in one quote request. Only the total number of pages is counted, and here is our discount scale for orders:
From 1 to 5 pages in the order - 20% discount
From 5 to 10 pages in the order - 25% discount
Over 10 pages in the order- 30% discount
Time to Make Your Life Easier
Your entire educational or professional career may depend on a properly translated CV, diploma, or application letter, do not hesitate to visit this page and let proficient translators secure your future.